TS Capture is a Windows utility for capturing digital television broadcasts. It enables you to capture a full broadcast transport stream containing multiple channels, or capture a single channel from within that broadcast.
TS Capture is compatible with all major digital televsion standards in use world-wide, including ATSC, QAM, DVB-T/T2, DVB-S/S2, DVB-C and DMB-T. TS Capture will work with any device that has BDA drivers, and has been tested with a wide variety of devices from popular manufactures like Hauppauge, BlackGold, PCTV etc. Also supported are SAT>IP and HDHomeRun network tuners.
A license for TS Capture costs US$29, but we encourage you to try the evaluation version before buying.
You can download the evaluation version from http://www.tscapture.com/TSCaptureSetup.exe.
---
The first time you run the application, you'll need to scan for channels. This only needs to be done once, and the channels will be remembered when you next use the application
Select your device then click the 'Scan' button.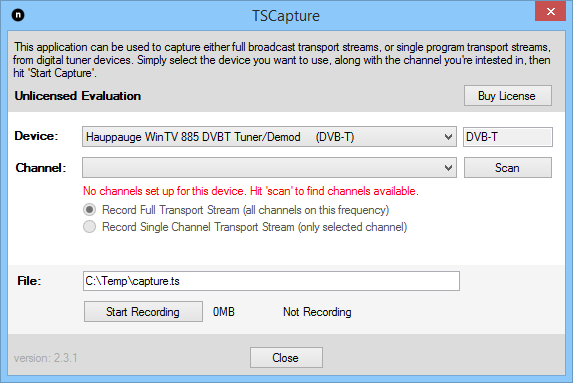 This will show you the settings screen for the device, where you can select your region or satellites, then click 'Scan' to search for available channels.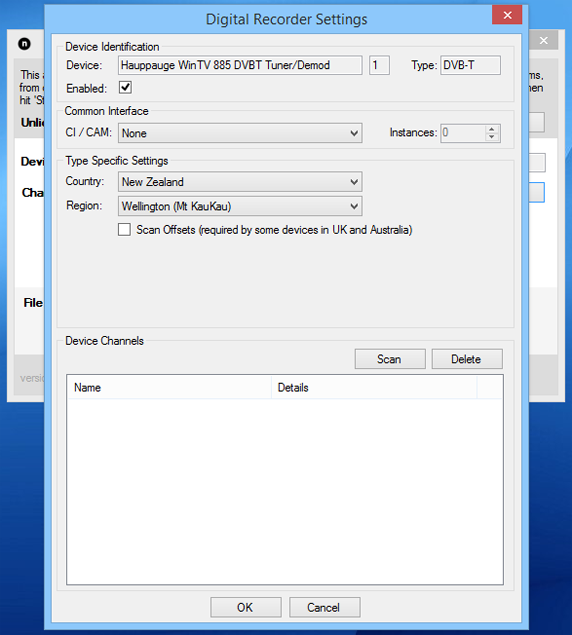 At completion of the scan, click 'OK' to store the channel list and return to the main interface.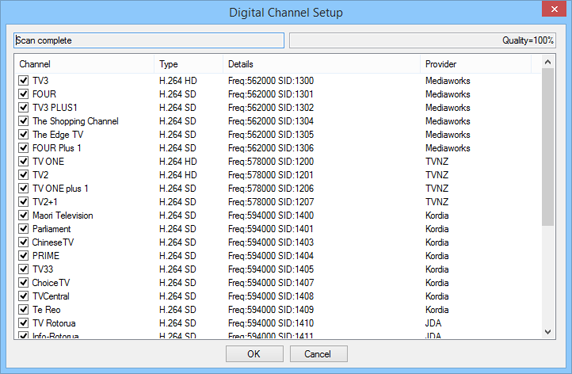 Select a channel, then select whether you want the full transport stream with all channels on the same frequency, or the just the channel you've selected. Then hit 'Start Recording' and you're away...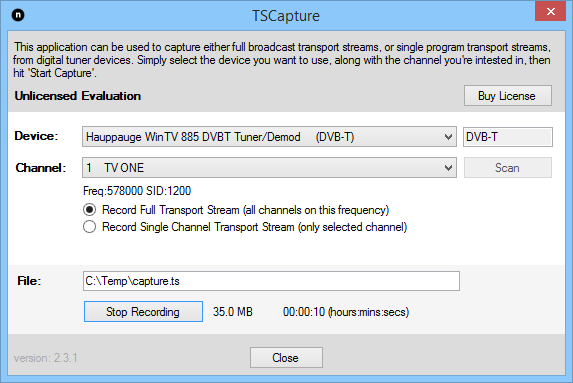 Use the 'Buy Now' button below to buy a license to TSCapture. A license key will be generated an emailed to you in the next 24 hours.
TSCapture
License costs US$29. A license key will be emailed to you within a few minutes of purchase.
TSCapture for New Zealand users
License costs US$29 incl GST. A license key and receipt will be emailed to you within a few minutes of purchase.